Microsoft Teams—the hub of teamwork within Office 365—can help your employees work together seamlessly. Teams is built for teamwork, and for fostering a new level of creativity and collaboration within your business. Such a hub is possible. With scalability, app integration capabilities, ease of use, and automation at the forefront of the tools you use, you can create higher-performing teams that collaborate more effectively with their colleagues every day. Here's what your teamwork tools should
empower you to do.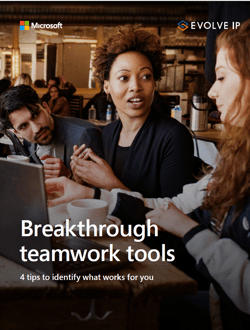 Simplify and future-proof your technology footprint with Evolve IP






It's nearly impossible to stay on top of every change in technology. Partner with Evolve IP and gain the combined experience of hundreds of technologists, all acting as an extension of your IT team. Helping you do more with less.
Featured By



Certified By