The Opportunity Ahead with Evolve IP: Cloud Communication Industry Insights
While the world has seen a sharp increase in the adoption of remote and hybrid work technologies over the past few years, a recent report conducted by market analysts at Cavell Group reveals the fact that the demand for unified communication (UC) solutions is still growing. Elite UC providers address the unique needs of modern enterprises.
Evolve IP is one such provider that is poised to take advantage of the forecast growth of UC adoption rates in the UK in the coming years. Approximately 67.8% of future users in the UK market have yet to onboard, making this a significant and exciting opportunity for businesses like Evolve and its partners.
"For Evolve IP, growth has been beyond expectations, and we are on a trajectory to double projections in 2021. There is now demonstrable proof of the growth opportunity in the UK market". - Paul Harrison, EMEA Managing Director
Keep reading to learn more about the role Evolve IP is playing in the unified communications market, the results of the Cavell Group Report, and the opportunity that awaits our partners.

To learn more about the big opportunities ahead for Evolve IP partners, register today for a webinar with Cavell Group, joined by Matt Townend, CEO at Cavell Group 'The Future of Cloud Communications ' on Wednesday 28th September at 11:00 am [GMT].
Evolve IP in the UK Cloud Communications Market
The cloud communications market is still in the early majority stage, where it is projected to remain until the end of 2023.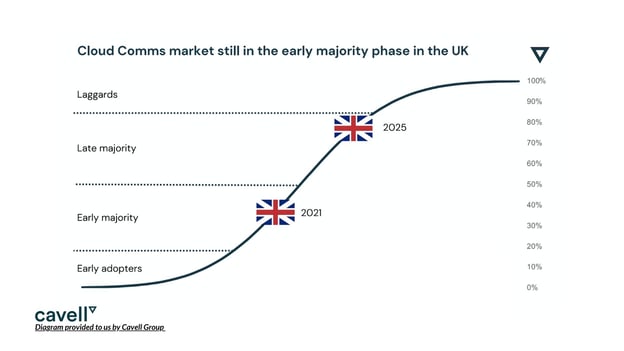 This market has historically focused on SMEs, with 43% of UC users employed at companies with fewer than 50 employees. By 2025, a projected 80% of users working for companies with 0-9 employees will be actively using cloud communication software.
For those customers in the small to medium enterprise size groups, price is considered a main determining factor when choosing a UC provider. When compared with other UC options on the market, Evolve IP offers a functionality-rich solution at a competitive price.
The Cavell Group Report helps contextualize Evolve IP's position in the market. While competitor prices range from very high-end to very low, enterprises need a solution that provides the functionality and features of a higher-end product at a lower mid-end price.
Evolve IP offers more functionality for a competitive price compared to our competitors, effectively filling a gap in the UC market.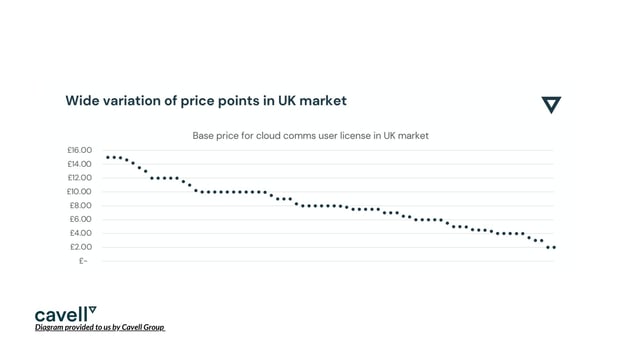 EMEA Cloud Communications Markets
As the most mature cloud communications market in Europe, the Dutch market provides insights into the future growth of the broader European market.
The data gathered in the Cavell Group Report on the UK and the Netherlands cloud communication markets were strikingly similar, suggesting similar positive predictions throughout these and other Western European markets.



The Leaders in Video Collaboration

Evolve IP's platform provides native integration between Cisco and Microsoft. As more UK teams choose between these industry-leading video collaboration solutions, Evolve IP enhances these solutions with our carrier-grade voice solution and ecosystem of applications. We empower our customers to adopt a remote workplace that increases productivity and efficiency.

Webex and Evolve IP
Evolve IP provides native integration with Cisco's Webex. As a Cisco partner, the team at Evolve has been innovators and early adopters of these solutions since 2021 and featured in The CIO Review Europe's Top Ten Most Promising Solutions in 2022.
Users can "Evolve Anywhere" with Cisco Webex, which unlocks possibilities for enterprise global voice and UCaaS as a whole.
With a diverse client base of some of the world's leading brands, Evolve IP is an IT ally for the hybrid workforce. Because we were an early leader in this space, Evolve has created an admirable gap, leveraging Webex and other communication software to strengthen its competitive position in the video-meeting market.
Microsoft Teams and Evolve IP
Evolve IP has been providing Microsoft Teams Direct Routing since the feature's introduction. This is a key differentiating factor for us, as the Cavell Group Report found that Microsoft Teams was one of the fastest growing industry disruptors in the UK market.
In the six months before the Cavell Group released their report, Microsoft's market share increased by 1.2%, putting major pressure on Cisco in the large enterprise sector. The Cavell Group Report suggests that the rise of Microsoft Teams will continue to impact the UK market in the years to come.
Customer Engagement in the Changing Market
One effect globalization has had on the UC market is increased competition. More competition in the market can diminish consumer brand loyalty. With more options to choose from, customers are able to demand more when selecting their provider and switch as their needs change.
Increased competition also leads to pricing consolidation. While cost has historically been a key brand-differentiating factor for UC providers, globalisation is changing the nature of the market. This forces providers to look for more ways to stand out.
86% of customers say they will spend more money on services and providers that offer a better customer experience. As an effect, businesses are seeking to improve and market their customer service features to appeal to customers.
At Evolve IP, we identify our customers' unique needs so we can become allies to their IT departments and team members. Our expansive product and service lines provide customised solutions for each enterprise that support a variety of collaboration and workflow styles.
Evolve IP: A Leading Unified Communications Provider
Evolve IP is a premier UC provider, not only in the UK but also globally. Our company has a reach of over 73 countries and over 500,000 users.
In 2021, our predicted growth was approximately 8-9% but early figures suggest our actual growth will double that prediction. We deployed to more than 30 new countries, spreading the impact line of our work communications work across the globe.
Over the next three years, we are prepared for the doubling of unified communication adoption rates by mid-size enterprises. We have over 14 years in business and 1,650 unique customers across the globe, making us one of the world's leading UC providers.
The Opportunity Ahead With Evolve IP
For partners, the opportunity for growth still lies ahead with Evolve IP. The market suggests that 13.5 million cloud communications users in the UK alone will be onboarding by 2025. The total addressable market in the UK is projected to grow by £810m between 2020 and 2025.
Based on the findings in the Cavell Group Report on the Netherlands cloud communications market, other Western European markets are projected to experience growth as well.
These users and customers are seeking innovative solutions for their unique work environments. The high-performance and functionality Evolve IP can provide will accelerate growth for companies in these markets and around the world. Our partners stand to benefit from industry expertise, time-tested products and services, and competitive market pricing.