Imagine a single platform that centralised all your business's communications needs in one secure, cloud-based location. That's Unified Communications (UC).

UC is the modern business's strategy for simplified collaboration that embraces remote, hybrid and emerging office environments instead of simply adapting to them. It allows teams to work and collaborate in meaningful ways through cloud-based technologies.

Using the power of VoIP or Voice over Internet Protocol, UC makes user adoption simple. Teams can communicate via email, SMS, internet messaging, voice and video calls. They can also link their personal and business phone numbers for hassle-free transfers.

By uniting communications tools, UC is able to offer improved productivity and connection, so teams are better equipped to collaborate, solve problems and innovate.

But the benefits of UC go beyond all that. As a result of the simplification and flexibility of this software, teams can significantly reduce operational costs. In this article, we'll explore the different ways unified communications can reduce business costs. Keep reading to learn how these solutions can lead to improved profitability for your business.
---

Better Tech for Energy Savings

Office-related expenses are an important factor when calculating business costs. Since research has found that energy comprises nearly one-fifth of office expenses it's easy to recognize the important role of energy efficiency in cost reduction.

On average, small businesses will use 25k kWh of electricity at their offices. Multiply that by the cost of electricity (approximately £0.44 per KWh) and you have a massive £11k per year spent on energy alone. This figure is set to triple in the next four months and could even exceed that projection.

So, how can businesses reduce energy consumption in their offices?
Here are some of the common ways businesses are saving on energy costs:
Programmable plugs

App-controlled smart thermostats

Leak detection software

Automatic lights

App-controlled appliances

Converting from hardware to cloud-based software

Electricity represents 77% of commercial building emissions, so reducing energy use can improve your business's carbon footprint, too.


Hosted Telephony vs. On-Premise
Research has found that businesses lose up to 20 percent of their annual revenue due to operational inefficiencies. This means that operations can dramatically reduce cost savings by focusing on workflow and performance management.

While grouping employees together based on location is a common model for operations, it comes with a long list of downsides. Moving team structures out of the silo and into the cloud can reduce missed calls and improve the efficiency of operational expenses.

Implement an Occupancy Charge Model

Commercial spaces accrue costs regardless of whether or not a building is being used. This means that businesses often pay unnecessarily high utility costs for use that occurs during weekends, holidays and nights.

Businesses that understand office-related costs can begin to implement cost-saving initiatives such as automated and programmable technology. This reduces the use of utilities when workers are not present.

Project Management Service (PMS) tools and facilities management solutions can provide real time automation that result in major savings for building owners and operators. For instance, in the hospitality industry, automation tools are available that will activate upon guest checkout, not only providing security measures such as deactivating key cards and locking phones, but also shutting down power to avoid any waste.

These strategies can be applied to more than just office spaces. Educational buildings, hospitality, warehouses and other commercial spaces can benefit from the implementation of an occupancy charge model.

Technology Upgrade
Collaborative technology allows you to run your business more efficiently. By implementing ways to capture, harvest and analyse data about the seasonality of your business, managers will be empowered to create optimised systems to meet their precise needs.
The Tech Ecosystem

A technology ecosystem can help reduce costs and your impact on the environment. Here are some strategies for creating a symbiotic tech ecosystem:


Focusing on on-demand collaboration: Virtual desktops and unified communications allow teams to meet and exchange information more effectively. This allows for meaningful contributions from team members while also cutting costs and reducing emissions from in-office hardware and commutes.

Optimise space: Reducing the use of space in an office by converting from hardware to software allows business managers to create more efficient spaces that require less energy to operate.

Facility management: Hybrid and in-office operations can reduce costs by managing the use of power and utilities in their facilities. Technology can be powered off when not in use, and smart technology can create new possibilities for cost savings.

Upgrades Now for Future Savings
The cost of upgrading your PBX systems can vary depending on the size of your operation. While it is an investment, it will ultimately result in a reduction in future spending and business overheads.

And the benefits of upgrading your PBX systems go beyond just cost savings. Here are some of the other reasons to make the investment:
Improved user experience

Increased employee productivity

Proven network uptime

Business continuity

Continuous support

It's evident that optimizing energy use, reducing cost savings and improving overall productivity are connected. Investing in upgraded PBX systems will make it easier to excel in all areas of your business.

Energy Use and Cost Savings

Factor in energy use considerations, as it relates to cost when deciding the type of hardware your business will invest in.

Every communication system — and all related products and devices — has measurable energy use. Less costly products may save money in the short term. But the long-term associated costs of inadequate, unscalable, or energy-draining tools may reverse that saving, costing your business more money in the long run.
Services such as Ucentric from MIT Dynamic offer these types of services. UCentric data capture and analysis provides businesses with a clear breakdown of the voice systems configuration and capacity but also the environmental impact of their current telephony environment, providing them with the tools they need to understand how and where they can cut down on their emissions and unnecessary license cost.

Many businesses have moved away from desk phones, providing softphone devices for both in-office and remote employees.

There are many convenient, contemporary UCaaS solutions to consider. For instance, softphone options may eradicate the use for PBX desk phones altogether. PBX desk phones use between 1.4-6.7 kWh of power per hour. By 2023, experts predict a cost of £0.34 per kWh in the UK. Even calculating moderate use at this rate, businesses could easily pay upwards of £233 per month per on-premise phone system. Removing these types of phones decreases energy use and cost.
---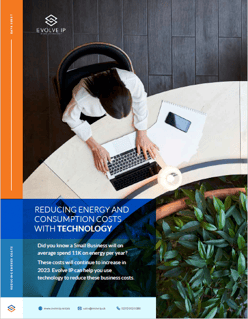 Download The Latest Guide:


Reducing Energy and Consumption Costs with Technology
---
Partner With Evolve IP for Unified Communications

Innovative technologies such as UCaaS software can make a measurable difference in a company's overall profitability by reducing costs and improving productivity.

Evolve IP is paving the way for a brighter future of work by uniting teams, improving collaboration, and reducing operational costs.

Evolve IP provides award-winning UCaaS solutions to enterprises across the globe. Contact us to learn more about how we can support your team.