Cardiff, UK –November 14, 2023 –
A revolutionary partnership between reseller Green IP and global collaboration service provider Evolve IP is set to transform the cloud communications landscape, offering an innovative green ecosystem business model.
Poole-based Green IP is dedicated to doubling its customer base in the coming year. The company's vision extends far beyond mere business operations; it is on a mission to be a net carbon business and a pioneer in sustainable cloud communications. Innovative solutions not only help businesses become more eco-friendly but also enhance collaboration and productivity, enabling a 'Work Anywhere' approach.
Committed to sustainability, Green IP has made significant investments in green electric vehicle technology and making their efficient office powered by renewable energy. This ethos also extends to merchandise, including bamboo pens and recyclable coffee cups. The company began operating last summer, having split from TXI, which is now focused solely on satellite communication.
Evolve IP (EMEA) plays a pivotal role by providing a carrier-grade platform and expertise in integrating unified communications, collaboration tools, voice, and omnichannel contact centre solutions into the cloud. The partnership aligns with Evolve IP's commitment to sustainability and the reduction of carbon emissions.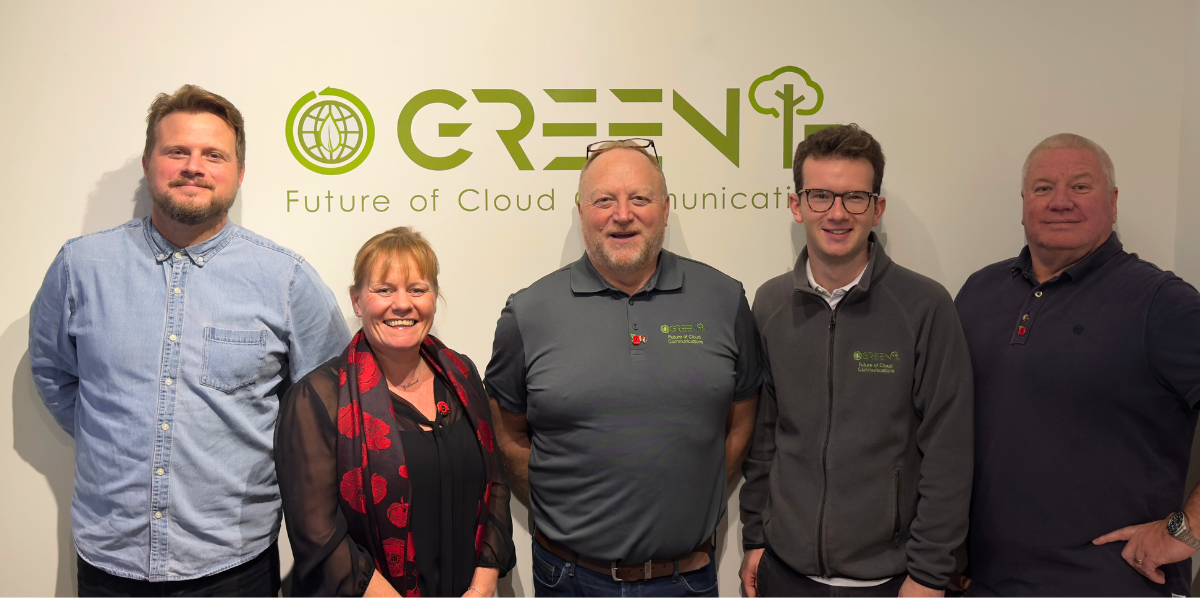 Positive Impact
The partnership is already making significant strides, with Green IP achieving its Climate Partner status and attracting attention from new customers, having also launched a website at www.greenip.co.uk
Matthew Brown, Business Development Executive at Green IP, emphasised how working with Green IP means supporting eco-friendly practices and making a positive impact on the planet. Solutions are designed to help businesses become more sustainable while reducing costs and enhancing collaboration.
He explained: "Customers are very keen to embrace our green vision. It's becoming more prevalent as climate change is something that no one can ignore now. We all have to play a part. 2024 will be a massive year for us."
Paul Harrison, Managing Director (EMEA) at Evolve IP, noted their shared passion for sustainability and the substantial impact it can make. He says the partnership is well-positioned to lead the way in sustainable business practices and offers a unique value proposition.
"Green IP is like a small seed which is destined to grow into a huge tree. We are very excited by the potential. Done right, done well and with the right solutions, support and messaging, the sky is the limit. They have a unique USP. It's a green company from the bottom up."
He added: "We know that around 70% of future procurement is looking to work with sustainable businesses. Green IP is a natural place for them to come.
"Today businesses have a choice to be sustainable but very soon we are not going to have a choice. It will become mandatory. So, if Evolve IP and Green IP are ahead of the curve, we can help all our customers to do the same and gain a competitive advantage. This will lead to a greener and more prosperous future for everyone, which is the ultimate goal. We are all on the same journey."
Matthew concluded: "The future is undoubtedly green, and businesses increasingly seek sustainability as a key criterion for partnership. Green IP and Evolve IP's collaboration embodies the ethos of a greener and more prosperous future, setting a precedent for the industry."

Simplify and future-proof your technology footprint with Evolve IP






It's nearly impossible to stay on top of every change in technology. Partner with Evolve IP and gain the combined experience of hundreds of technologists, all acting as an extension of your business. Helping you do more with less.
Featured By


Certified By