Introducing Evolve IP's New DaaS + UCaaS Bundle:
Office-in-a-box
Take advantage of this cost-effective Unified Communications & Virtual Desktop offering to:
One Platform

- consolidate Desktops, Servers, Security, Storage, Backup, Collaboration, Voice, and Microsoft 365 Licensing into a single management view


One invoice - E

xperience the benefits of consolidating all your productivity, security, and virtual office solutions into one invoice

One call

for all your support needs, thereby eliminating finger pointing amongst different vendors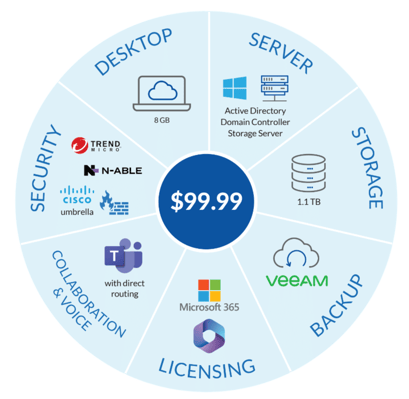 All the features that you need are now in ONE box

Storage
Get up to 1.1 TB of storage for 100 users

Licensing
Option to include Microsoft E3 licensing and Microsoft Phone System

Backup
Keep an up-to-date copy of your apps & files in a secure location jjjjjjjjjjjjjjjjjjjjjjjjjjjjjjjjjjjjjjjjjjjjjjjjjjjj

Server
Includes an active directory server, domain controller server and storage server

Security
Enhance security with SSO, MFA, robust firewall, antivirus/malware technology, and device security

Collaboration & Voice
Increase productivity with Microsoft Teams direct routing and real-time audio and video

Desktop
Use any device and get up to 8 GB of storage gggggggggggggggggggggggggg
gg

Cost
Choose from our $68.99 package or $99.99 package
Choose the package that best fits your IT needs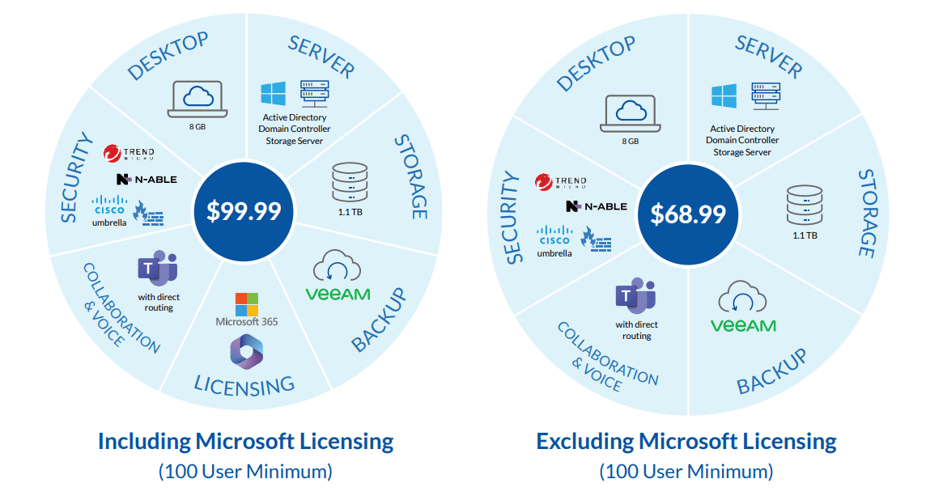 "Response times are almost immediate and they are great at follow up. The support from Evolve IP is industry best. Every person I have had the pleasure of working with has been competent and extremely helpful."

"We haven't missed a beat. The transition has been almost seamless to our folks, working from home full time. My team looks like heroes right now because of how seamless this has been for our organization. It has been wonderful."

"Our executives can now travel to different locations, simply find an empty office or workstation and log-on to access their own desktop environment… We gained an immediate increase in mobility within single offices and as well as from office-to-office without having to buy every associate a new laptop."

"Evolve IP facilitated the most successful and smooth data center move we've ever experienced. The combination of rapid integration and cost savings has allowed us to acquire more practices in a faster and more profitable way. That is resulting in bottom-line cost savings and top-line business benefits."

"If we didn't do this, we would've had to hire 3 or 4 more people. This saved our bottom line, got more service, and increased the firm's efficiency/uptime."

International accounting firm increases productivity by 30% during COVID with fully integrated Work Anywhere™ solutions.
Everything was flowing, everyone's connecting...Just seamless! And everything just worked. We haven't been down since we went remote."
– Chief Information Officer, Friedman, LLP

One of the nation's largest and fastest-growing dermatology businesses estimates savings of $6.45 Million over 5 years
Evolve IP's digital workspaces have allowed us to acquire more practices in a faster and more profitable way. That is resulting in bottom-line cost savings and top-line business benefits."
– Jeff Francis, Vice President of IT USDP

Simplify and future-proof your technology footprint with Evolve IP






It's nearly impossible to stay on top of every change in technology. Partner with Evolve IP and gain the combined experience of hundreds of technologists, all acting as an extension of your IT team. Helping you do more with less.
Featured By



Certified By