"55% of executives reveal they expect employees to work outside of a corporate office the majority of the time after the pandemic is over." Learn what 538 business professionals, IT, and executives had to say about the future of remote work.
Approximately one year ago COVID-19 shut down the world. Millions of lives have been lost, economies have been decimated, and industries permanently altered. Despite the challenges presented by the virus, most businesses have survived – many have even grown. What's kept them going? Employees with the ability to work anywhere, cloud services, and dependable, high-speed connectivity. Each component has been critical to sustaining businesses and providing an accelerated path to financial recovery.
In early February 2021, Evolve IP surveyed 538 individuals via SurveyMonkey about their remote work experience over the last year and post-pandemic work expectations. The survey respondents were broken into two groups. The first, 'Business Respondents', consisted of 400+ executives, operations, and IT professionals – those responsible for funding and supporting work from home (WFH) initiatives. The second, 'Employee Respondents' (120+), were asked about how WFH and the related technologies had impacted their jobs.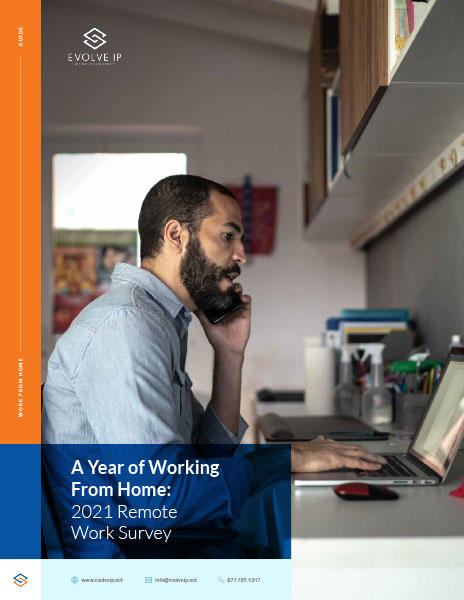 Simplify and future-proof your technology footprint with Evolve IP






It's nearly impossible to stay on top of every change in technology. Partner with Evolve IP and gain the combined experience of hundreds of technologists, all acting as an extension of your IT team. Helping you do more with less.
Featured By



Certified By