A comprehensive checklist to help get you started
In light of the disasters that are striking businesses across the US with alarming regularity, it's important to have a comprehensive continuity plan in place or your entire business can be ruined.
Download our comprehensive business continuity checklist to jumpstart your efforts – or evaluate your current plan.
Table of Contents:
Operational and General Planning
Data Center and I.T. Systems
Telecommunications Systems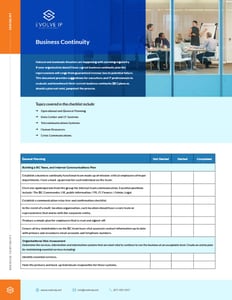 Simplify and future-proof your technology footprint with Evolve IP






It's nearly impossible to stay on top of every change in technology. Partner with Evolve IP and gain the combined experience of hundreds of technologists, all acting as an extension of your IT team. Helping you do more with less.
Featured By



Certified By