With companies being inundated with a constant flow of data from multiple sources, it is difficult to truly leverage the critical insights this information can provide. Businesses need a consolidated, easy-to-use data repository that can free them from the complexity of unifying data and helps them gain valuable business intelligence to enhance their daily operations. Evolve IP's Data Warehouse solution provides customers with fast and easy access to all their data and interactions across all voice platforms, from a single location.
Data Warehouse is Evolve IP's direct data solution that provides customers the ability to access, analyze, and better understand their business data generated by Evolve IP. Easily obtaining Evolve IP's data across all voice platforms from a single location enables customers to gain valuable business intelligence (BI) and discover rich insights that go beyond traditional pre-configured reports.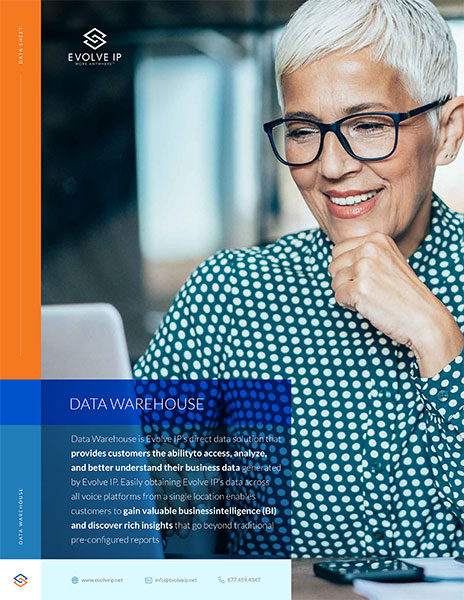 Simplify and future-proof your technology footprint with Evolve IP






It's nearly impossible to stay on top of every change in technology. Partner with Evolve IP and gain the combined experience of hundreds of technologists, all acting as an extension of your IT team. Helping you do more with less.
Featured By



Certified By