We know the various options and approaches available for enabling effective collaboration can seem complicated and confusing. You want simple, clear information in easy-to-understand language to help you make better informed decisions. Well now you have it. In this guide, we share our tried-and-true principles and tips so you can get started working your waytoday.
Collaboration goes beyond just connecting people
The workplace is truly anywhere you find yourself working. As workplaces are being reimagined and more people working remotely than ever before, your business needs collaboration technology that can be tailored to the way you want to work –in the office, in remote locations, or in a hybrid model.
Here are some important questions to ask yourself when considering collaboration solutions:
Does it have everything I need to support my teams?
Effective collaboration tools empower your teams to connect anytime, anywhere, with features that fit naturally into and improve their workflow without overwhelming them. The right set of tools makes it easer to meet the needs of a modern and productive workforce – along with the ever increasing demands of your customers.
Evolve Anywhere with Webex delivers everything you need in one secure place to call, message, meet and get work done – no matter where you work.
Call
Built-in high-definition voice and video calling from Evolve IP Global Voice and meetings with integrated devices and headsets
Message
Message, file share, and one-click calling in always-on spaces with people inside and outside your organization
Meet
High-definition video and voice meetings that include integrated scheduling, rich AI-powered transcriptions, noise cancelling and more
Tip – Research says that 98% of future meetings1 are expected to have at least one person attending remotely. You need to give just as much thought to the out-of-office experience as the in-office one.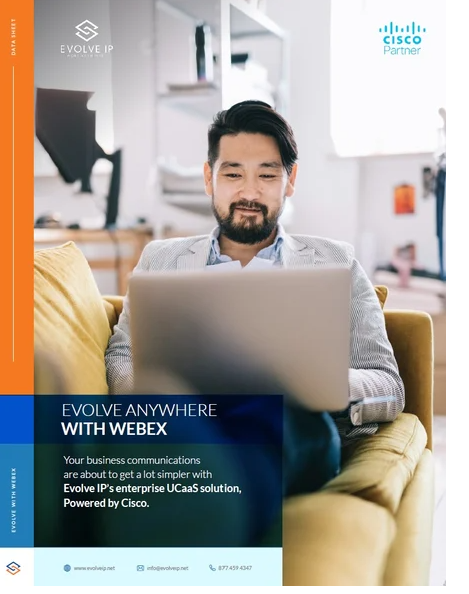 Evolve Anywhere with Webex
Evolve IP is proud to partner with Cisco to offer a fully integrated collaboration experience, bringing together cloud calling provided by Evolve IP Global Voice, with Webex's advanced messaging and meetings capabilities, all within one single app.
Is it flexible?
Your solution should support any kind of communication –from a phone call to the largest meeting. It should work well for any role or function in your company. It should let you work with people inside and outside your company, seamlessly.
And it should let you work with in the tools you want to use.
Give everyone intuitive technology with one-click simplicity. Expect easy integration with tools you already use, such as calendars, mobile operating systems, and chat clients.
Put an end to the frustration and productivity drain that comes from looking for information and switching between disparate applications. Look for solutions that integrate with your other tools and help minimize silos that take a toll on productivity and cost your business.
20%
of an employee's time is spent looking for information2
Is it secure?
Protect your business information, devices and users
Your risk expands with today's hybrid work models -more work locations and connections, more devices, more communications, more content. You need theutmost security and privacy, without compromising simplicity and employee efficiency.
Voice Connect with Webex has security built-in, not bolted on. You automatically get end-to-end encryption, compliance, visibility and control you need to secure your devices, users and applications, all while delivering the best user experience.
43%
of all cyber attacks target small businesses3
Is it easy to set up and use?
Look for a secure cloud-based platform that's easy to set-up and use and delivers new functionality and security enhancements through automatic updates. Expect a straightforward managed onboarding of your customer account and obvious user-level settings to help your team get right to work with all options of your collaboration solution: users, apps, and devices.
Evolve IP delivers Voice Connect with Webex with super easy provisioning, self-service deployment and end-to-end troubleshooting in case you need it. Get a single collaboration tool that enables calling, meetings, and messaging to help you make better and faster decisions that drive your success.
Is it affordable?
Let's face it, it's easy to get lost in the weeds with all the choices out there. There are lots of point solutions that can do the job,but the costs of multiple apps start to stack up quickly. A complete integrated collaboration suite with flexible subscription-based pricing is your best bet for a trustworthy solution with long-term ROI.
You no longer need all the point solutions for each type of function; like meetings from one vendor, events from another, messaging or calling from another. With Evolve IP's Enterprise UCaaS solution, Evolve Anywhere with Webex you get one suite that meets all your collaboration needs at one low price, giving you more value for your money.
Tip – Know where your hard earned cash is going! Before you buy, take time to inventory the different file sharing, messaging, and meeting tools in use across your business. Once you've chosen a platform, establish clear guidelines about its use to increase user adoption & productivity while reducing the cost of redundant services.
A few final thoughts
If you're like a lot of small business owners, you probably don't want to spend all day thinking about collaboration. But you can't ignore it either because the way people work has radically changed, and research4 suggests that companies boasting collaborative cultures are five times more apt to perform at high levels.Trust your local service provider with small business expertise for calling and collaboration solutions that are easy to set up, manage, and expand, with pricing models that make sense. We help you focus on what matters most – growing your business.
he workplace is truly anywhere you find yourself working. As workplaces are being reimagined and more people working remotely than ever before, your business needs collaboration technology that can be tailored to the way you want to work –in the office, in remote locations, or in a hybrid model.
https://www.cisco.com/c/en/us/products/ collaboration-endpoints/workforce-survey-2020.html
https://www.forbes.com/sites/ forbestechcouncil/2019/12/17/ reality-check-still-spending-more-time-gathering-instead-of-analyzing/?sh=57d3c0a728ff
https://www.verizon.com/business/ resources/reports/dbir/
https://www.i4cp.com/productivity-blog/top-employers-are-5-5x-more-likely-to-reward-collaboration

Simplify and future-proof your technology footprint with Evolve IP






It's nearly impossible to stay on top of every change in technology. Partner with Evolve IP and gain the combined experience of hundreds of technologists, all acting as an extension of your IT team. Helping you do more with less.
Featured By



Certified By