Evolve IP helps businesses offer greater flexibility and mobility to their workforce by allowing users to log into any phone available in their office and turn it into their primary personal work phone. With Open Seating, businesses can maximize workspace environment and increase productivity.

The drastic rise in a mobile workforce is driving businesses to adopt technologies that allow them to support a flexible work environment. Evolve IP's Open Seating service allows users to maintain a seamless communication experience and enhance productivity when they are telecommuting between multiple office locations.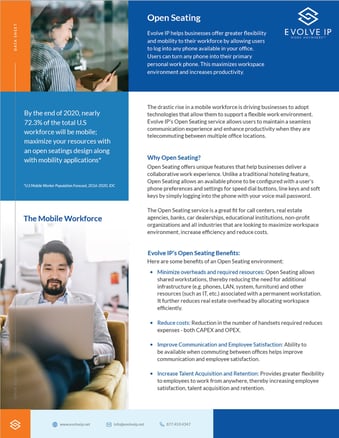 Simplify and future-proof your technology footprint with Evolve IP






It's nearly impossible to stay on top of every change in technology. Partner with Evolve IP and gain the combined experience of hundreds of technologists, all acting as an extension of your IT team. Helping you do more with less.
Featured By



Certified By