The best way to understand customer feedback is to simply ask the customer directly. Evolve IP's Post Call Survey provides businesses the opportunity to improve customer experience and contact center performance by collecting immediate feedback from the customer about their recent interaction with their contact center representative.
One of the main challenges faced by most organizations is how to improve service and identify the areas of focus. According to research, 8 out of 10 customers walk away because of poor customer service. Evolve IP's automated surveys are designed to help organizations solve this issue and enhance their customer engagement strategy.
Why Evolve IP's Post Call Survey?
Evolve IP's Post Call Survey is an automated application that allows organizations to offer customized surveys based upon the nature of the customer inquiry. It provides businesses the ability to gather direct customer feedback and understand customer experience within a few minutes of completing an interaction. Business leaders can combine survey results with operational data to create a valuable tool to measure overall customer satisfaction and then focus on continuous improvement.
Features
Automated application with user defined paramaters
Customized reports that provide customer feedback
Flexibility to use pre-built survey questions or use customized questions provided by an organization
Ability to offer an opt-in option to callers at the beginning of every interaction
Flexibility to add questions in several formats such as T/F, Y/N,
multiple choice etc.
Benefits
Quantify the customers' experience, preference and expectation
Measure and improve customer satisfaction
Improve agent performance by analyzing survey results with call recordings
Streamline processes and design new training based on the survey results
Reduce agent turnover
Track trends in customer loyalty across product, agents, customer type, industry and time
Ability to keep surveys agent specific or anonymous
For every customer complaint there are 26 other unhappy customers who have remained silent, so make sure you mea- sure you ask for customer feedback and measure their satisfaction rate*.
*Source: Lee Resource
Feature Rich Unified Contact Center
that keep agents connected & build trusted relationships

Complete Omnichannel Feature Set

Unified with PBX
Workforce Optimization

Call Recording with Voice AI
Cisco WebEx Integration

Microsoft Teams Integration
Agent & Supervisor Tools

Remote Application Access
Advanced Reporting
Data Warehouse
CRM Integrations

IVR, Surveys & Callbacks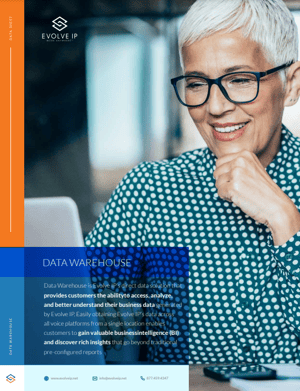 Revolutionize Your Data Management
Data Warehouse is Evolve IP's direct data solution that provides customers the ability to access, analyze, and better understand their business data generated by Evolve IP. Easily obtaining Evolve IP's data across all voice platforms from a single location enables customers to gain valuable business intelligence (BI) and discover rich insights that go beyond traditional pre-configured reports.

Simplify and future-proof your technology footprint with Evolve IP






It's nearly impossible to stay on top of every change in technology. Partner with Evolve IP and gain the combined experience of hundreds of technologists, all acting as an extension of your IT team. Helping you do more with less.
Featured By



Certified By