IT leaders no longer need to sacrifice security in the name of productivity or flexibility. See how Evolve IP can help you support your flexible workforce fast with secure, easy-to-manage cloud desktops and apps.
Let's start with the obvious: Hybrid is sticking around. In a global survey of IT leaders conducted recently by Fieldwork by Citrix and Pulse, 100% of respondents said their organization planned to implement a hybrid work model for the foreseeable future.
Nevertheless, IT teams are not always provided with the tools and systems they need to ensure enterprise flexibility and security. As opportunities multiply for cross-collaboration between teams and external partners, so too do an organization's challenges around security and systems integration. IT leaders understand that this new world requires them to work more efficiently, while also maintaining secure systems and platforms for distributed teams.
IT veterans recognize the contradiction at the heart of this moment. Historically, choosing flexibility meant compromising security. Bolstering security, meanwhile, often created a tedious, disjointed experience for the end user - and more than a handful of passwords scrawled in notebooks. Innovative tech solutions can help unleash an organization's true potential, but only when organizations implement them can they side-step these false choices.
When they do, IT leaders are freed to approach maintaining security and delivering a quality end-user experience as a "both/ and" proposition, not an "either/or" one.
Compromise is a relic of the past. Here's how forward-thinking IT leaders can keep it there.
False compromise no. 1:
Security vs. Employee experience
In the past, IT teams needed to balance maintaining security for their networks and providing employees with the tools they needed to do their jobs effectively. This was a simple solution when everyone sat behind the firewall; after all, VPN provided an effective solution when an employee was remote. New times, however, require new thinking.
By implementing unified zero trust network access (ZTNA), it's possible to protect all users, apps, and data without creating silos or disruption. Deploying proper contextual access policies allows management to scale business propositions while still meeting today's toughest security standards, all without compromising employee productivity.
Furthermore, ZTNA can deliver adaptive access to corporate apps and protect against threats. A secure hybrid work environment also supports bring your own (BYO) and unmanaged devices, and provides access to IT-sanctioned apps, without inviting undue risk. ZTNA also grants secure access to IT-sanctioned apps and enhances security with adaptive authentication and single sign-on (SSO).
Key services
Evolve IP's solutions, powered by Citrix help businesses scale and still meet
today's modern security standards, without compromising the employee experience. The tailored virtual desktop and security features, help prevent unauthorized access and threats from unmanaged and BYO devices.
40%
of all remote access usage that will be served predominantly by ZTNA by 2024, up from less than 5% at the end of 20201
1a. Use case: Financial services
Organizations in financial services need to balance their need for security - a paramount concern for any heavily regulated industry - and ensuring a quality employee experience. For example:
One brokerage house may offer VPN, which provides adequate but simplistic security and is prone to a slow, painful user experience.
The second brokerage relies on remote access to enabled apps via SSO only, which can present security vulnerabilities.
The no compromise solution
By tapping into IT and tech solutions such as DaaS that protect data - wherever work is taking place - companies, employees, and contractors can access more choice and flexibility in their workstreams, while maintaining a muscular security posture.
1b. Use case: Contact center
Contact centers can get caught between extending flexibility to employees around how they access networks, and maintaining security protocols at scale. For example:
A third-party contact center may need to scale tech solutions quickly based on the ever-changing needs of the multiple brands it supports, but frets about being locked into binding contracts.
A second center specializes in on-site support, but must adjust to the rapidly evolving needs of its distributed workforce.
The no compromise solution
With Evolve IP's desktop as a service (DaaS), powered by Citrix, all employees get a single, simple unified access point in and out of the office - as well as more autonomy and less reliance on IT - without lag or integration headaches.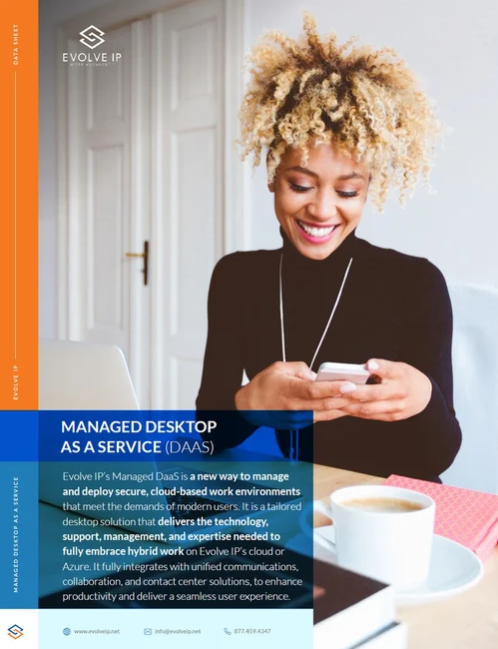 What is Managed DaaS?
Evolve IP's Managed DaaS is a new way to manage and deploy secure, cloud-based work environments that meet the demands of modern users. It is a tailored desktop solution that delivers the technology, support, management, and expertise needed to fully embrace hybrid work on Evolve IP's cloud or Azure. Click on the link below to learn more about Managed DaaS.
False compromise no. 2:
Security vs. Flexibility
Traditionally, IT leaders needed to balance ensuring enterprise flexibility with creating secure environments for proprietary data. Thankfully, these leaders no longer have
to compromise when it comes to how they provision, integrate, and deploy technology.
By offering DaaS, organizations can power work from anywhere and gain IT simplicity and agility. DaaS also provides the flexibility for employees to thrive in their work, wherever they are, while IT teams maintain security protocols and standards.
These solutions work by reliably offloading infrastructure and maintenance while delivering cloud apps and desktops from a proven, secure provider. It's simple to migrate apps to and among clouds, and future-forward orgs will implement a best-in-class DaaS solution without locking in with a single vendor.
Key services
Evolve IP's DaaS solution, powered by Citrix allows companies to securely deliver apps and desktops to any device, over any network. These solutions empower companies to deploy secure remote apps and desktops to users at scale - while providing a great experience and simplifying IT management. No compromises necessary.
79%
or respondents who indicated they believe alternative desktop delivery models such as VD and DaaS are more secure than traditional desktop delivery models.2
1a. Use case: Healthcare
Medical organizations of all sizes can have sprawling technical infrastructures with legacy tools and systems. Furthermore, patient privacy laws require specific types of security protocols that can be onerous to implement and enforce. For example:
One large hospital group boasts a computer network housed across a sprawling geographical area, all running on legacy hardware and software.
Another is struggling to ensure compliance with patient privacy laws that require specific types of security protocols, which can be difficult and time­consuming to implement and enforce.
The no compromise solution
Tech-agonistic platforms don't lock a business into a single provider, integrating flawlessly with existing tech solutions via Microsoft and Google partnerships. This helps manage IT transformation projects incrementally, without wholly replacing existing systems or disrupting business. Services like DaaS make an environment that powers work-from-anywhere and IT simplicity, while allowing a company to quickly ramp up office staff in a world of hybrid work.
2b. Financial services
Security rules and regulations governing the financial services sector can be onerous for employees to navigate -even for the regulators themselves. For example:
One financial industry regulator is considering moving to a cloud-based VDI solution, but is concerned about security.
A second regulator conducts its work more traditionally, via a full-service solution, but lacks the simplicity of the cloud.
The no compromise solution
Services such as VDI and DaaS can be deployed in both environments, delivering the best of both worlds and eliminating the need to choose between flexibility and efficiency. Organizations that employ these services empower their people to be productive in any working situation, while quickly and securely moving from task to task or device to device.
Enabling a 'no compromise' world of work
When it comes to ensuring security while delivering the highest-quality employee experience possible, the choice is clear. There's no need to choose. Gone are the days when a company's IT team was forced to compromise between flexibility and efficiency, or security and employee experience.
Evolve IP's DaaS solutions powered by Citrix can help organizations deploy secure solutions that set employees up for success. These assets and systems allow workers to thrive in hybrid work situations while also empowering cross-team as well as intra- and inter-organization collaboration. And by avoiding contracts tied to single providers, the solutions can scale up and down efficiency on an as-needed basis — saving time, effort and money.
See how Evolve IP can help you support your flexible workforce fast with secure, easy-to-manage cloud desktops and apps. Contact us today.

Simplify and future-proof your technology footprint with Evolve IP






It's nearly impossible to stay on top of every change in technology. Partner with Evolve IP and gain the combined experience of hundreds of technologists, all acting as an extension of your IT team. Helping you do more with less.
Featured By



Certified By