Disasters happen. And often at the most inconvenient times and when you least expect them. Whether it's natural (fires and floods) or man-made (hacking or human error), disasters are never fun to deal with. But if you have a disaster recovery plan – DR Plan – in place, your business can find it easier to bounce back.
Don't read that last sentence lightly. Many businesses without DR plans have had to close their doors after an unexpected event. In fact, according to our survey, 93% of companies that lost their data for 10 days or more filed for bankruptcy within one year of the disaster.
So, you see, a disaster recovery plan is like a life vest when the boat tips over. You'd probably never get on the boat if you heard it didn't have any life vests, so why leave your business vulnerable to a possible catastrophe?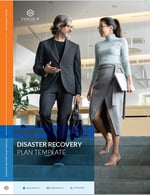 Click here to get your free Disaster Recovery Plan Template today!
What is a Disaster Recovery Plan?
The short answer is, a disaster recovery plan is a living, breathing document that outlines precautions to take to minimize the effects of a disaster so your organization can resume mission-critical functions. Most businesses conduct a business impact analysis and risk analysis to establish the recovery time objective and recovery point objective.
In other words, you will analyze all aspects of your operation from top to bottom and sideways to identify your most critical processes and what your specific continuity needs are. Based on this information, you'll develop a comprehensive plan of what to do if (when) disaster strikes.
Instead of "what is a disaster recovery plan?" perhaps the better question to ask is, why does every business need a disaster recovery plan?
Here are a few reasons why, if you don't already have one, you'll want to develop your own DR plan pronto:
1. Customer Re-Acquisition is Expensive
You've probably heard that it costs more money to acquire a new customer than to retain an old one. And this is definitely true. But when an IT disaster strikes and you're not prepared, you can really lose customer trust. And getting that trust back will be next to impossible, and therefore, costly.
It is far less expensive to prevent, or at least, prepare for a disaster than to try and re-acquire lost customers after a catastrophe has occurred.
2. Machines and Hardware Fail
No matter how much technology evolves, machines and hardware will always fail at some point. That's a fact we all have to accept. No matter how much money you spend on the best systems and digital solutions, you'll never be 100% immune to hard disk or internet connection failures.
Having a disaster recovery plan in place is the only way you can ensure a hardware failure doesn't interrupt your service or cause data loss. Evolve IP's cloud backup ensures our customer's data is safe should their hardware fail.
3. Human Errors are a Thing
Spoiler alert: Human beings are flawed. I know, you're shocked at the realization. But it's important to be honest about it. Because as much as you may like, appreciate, and trust your staff, at some point, one or more may… well, drop the ball (in a big way). And to make matters worse, human error is incredibly difficult to prevent. If that weren't the case, life as we know it would be very different. Backup, along with checking and double-checking processes, will protect your critical data.
Final Thoughts
If you want to save money while saving face, it's important to develop a solid IT disaster recovery plan. No business is shielded from disasters, including yours, and the importance of having a comprehensive plan in place cannot be overstated.
Evolve IP works with clients to help them prepare for the unexpected. Our client and analyst-acclaimed disaster recovery suite protects your data and allows you to recover your environment based on how your business runs and the way your infrastructure is designed. From fully managed DR to self-managed solutions to essential cloud backups, we have a service that enables IT resilience and fits your recovery timeframes, budget, and compliance needs.