Microsoft Office 365 enables your organization to work anywhere, anytime without the need to maintain your own email infrastructure. And, it provides a great way to minimize your on-premises footprint and to free up it resources. Even though Microsoft hosts the infrastructure, this does not replace your responsibility to maintain a backup of your email data.
Summary
With Office 365, it's your data — you control it — and it's your responsibility to protect it. Evolve IP's cloud Backup for Office 365 mitigates the risk of losing access to your email data, ensures availability for your users and supports email archiving requirements.
Evolve IP's cloud backup solution provides complete protection, access and control of your organization's emails, contacts, files and more. By using modern Availability software, IT can leverage cloud backup and recovery to assert greater control over Office 365 access and protection.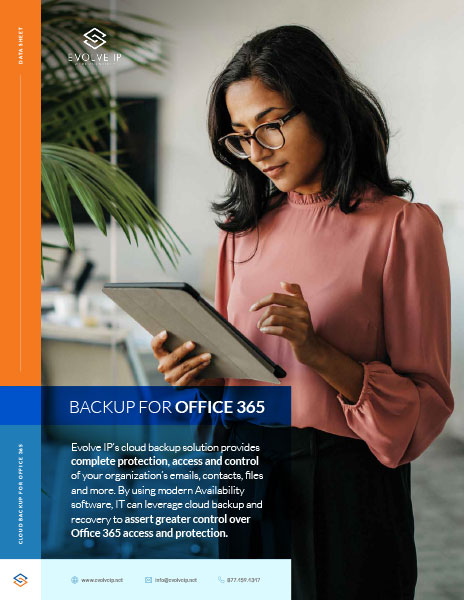 Simplify and future-proof your technology footprint with Evolve IP






It's nearly impossible to stay on top of every change in technology. Partner with Evolve IP and gain the combined experience of hundreds of technologists, all acting as an extension of your IT team. Helping you do more with less.
Featured By



Certified By