Is your current phone system or advanced hunt group slowing you down? Do you have the appropriate communication channels (e.g. voice, chat, email, etc.) for your customers but they are completely siloed from each other?
A fully unified omnichannel contact center solution that integrates with PBX & Microsoft Teams enables IT and contact center leaders to deliver a superior customer experience and improve agent productivity along with the following benefits:

Resolve Issues Faster:
Connect agents to the rest of the business to get the answers that customers' need, in a fast & secure manner
Get Better Insights:
Free yourself from the hassle of consolidating fragmented data to understand caller needs & agent responses.
Consistent User Experience:
Agents and customers, all get a unified user experience regardless of the application that they are using.
The pandemic forced contact centers to quickly spin up patchwork, work-from-home solutions, or dramatically alter their physical contact center footprint. Now, with businesses evaluating a long-term strategic change toward work anywhere users, IT and contact center leaders are looking at better ways to connect agents not only to the contact center solution, but to the critical applications they need to do their jobs.

Evolve IP's redundant, compliant cloud-based architecture allows customers to interact across any communication channel & enables agents to work productively from anywhere.


Meet your customers where they are and empower your agents to accomplish more with less.
Evolve IP is the only provider that delivers a complete solution for agents and managers that need:
award-winning omnichannel features,

secure access to SaaS and legacy applications, and

integration with the rest of the business via Microsoft Teams;
All from a web browser on nearly any device.
The Evolve Contact Suite's advanced features provides contact center leaders with powerful real-time visibility and rich operational insights giving them the flexibility to work, hire and manage their agents f rom anywhere. From advanced tools like AI speech analytics to sophisticated reporting to simplified routing via a graphics interface, the solution offers tools that streamline agent interactions and enhance customer experience.
Key Features
Evolve IP's platform is designed to deliver all of the features needed to operate a world-class contact center from anywhere including:
PBX and ACD:
can be deployed in a fully standalone mode or as an 'overlay' to your existing phone system (PBX) or Microsoft Teams.

Omnichannel Interactions:


Communicate with customers using their preferred method - calls, text/SMS, email, web chat and web callback.

Call Recording & Quality Management:


Record all or some of your agent's calls and screen interactions, assign tags for QA/workflow purposes, and evaluate agents via custom scorecards.
Advanced Reporting & Business Intelligence:
Leverage real-time reports in an ad-hoc or scheduled manner, build custom reports & visualizations, and connect operational datasources for a holistic view of your operation.
Web Agent Client:


Easy to use browser-based application with features and functionalities designed specifically to help your agents be more productive and efficient.

Real-time and Scheduled Callbacks:


Offer callers the convenience of a callback instead of waiting for an agent.
Customized Call Flows:
With more dispersed agents, working under tougher conditions than ever, call routing more has become even more challenging. ECS offers a powerful GUI (Graphic User Interface) to easily build advanced routing call flows.

Speech Analytics:


Using Evolve RECAP, agents and managers can easily identify call sentiment, receive automated notifications, and document, review, and train via multimedia call transcriptions.

Contact History / Screen Pop:


"Telephony enable" your CRM and business applications or leverage the existing CRM to provide an integrated customer history across all communication channels.

Business Continuity / Disaster Recovery:


Operate your contact center regardless of technology, power or carrier failures.

Simple, Concurrent Licensing:


A simple pricing structure that eliminates confusion and cost that improves your return on technology investment.
Dedicated Team:


O

ur contact center practice will customize and design the best solution that fits the strategy of your organization



Enhance agent productivity with an easy to use web-based application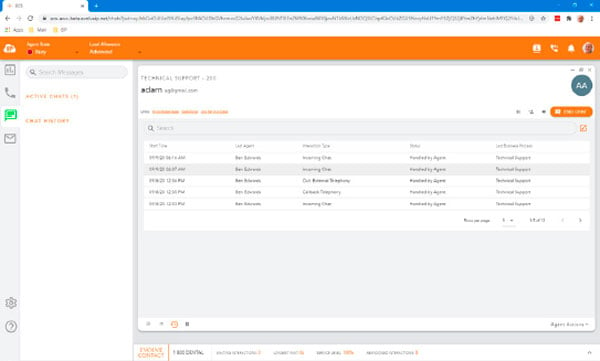 Agents operate seamlessly across all communication channels
Easily make real-time call flow changes
Provide real-time metrics to the contact center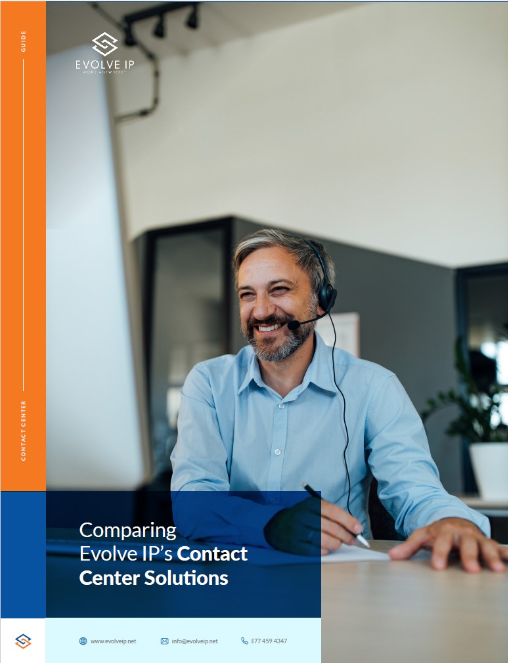 Comparing Evolve IP's Contact Center Solutions
Evolve IP provides two contact center solutions to help organizations improve customer experience and agent productivity: BroadWorks Call Center and Evolve Contact Suite.
The feature comparison below can help organizations find the solution that best meets their business needs.
Key Differentiators
Lower TCO: Eliminate CAPEX, maintenance costs, upgrade charges, and reduce traditional telecom expenses. Pay for only the services you need; when you need them.
Integrated with Microsoft Teams: For businesses using Microsoft Teams for collaboration and video conferencing, contact center agents can take full advantage of Team's productivity features while also interacting with the rest of their company's associates.
Work & Hire Anywhere (Agents & Managers): The Evolve Contact Suite runs on all major web-browsers with easily navigable, attractive modern user interfaces that improve agent productivity and empower a great customer experience. Real-time dashboards help users, no matter where they live and work, stay on top of KPI and key business metrics.
Work & Hire Anywhere (IT): Agents and Managers need nothing more than a web browser to securely access Contact Center, SaaS, and critical legacy applications from the same Web portal. This frees IT from deploying and managing PCs and supporting clunky VPNs to get agents access to the tools they need.
Flexible: Implement only the services you need. Distribute contact center resources without adding IT staff.
Customer Satisfaction: Improve your caller's experience with advanced routing tools, surveys, CRM / business application integration, and business intelligence insights.
Secure & Compliant: Deployed on a private cloud with compliance certifications, encryption, and the ability to address your audit concerns.
Key Benefits
All of the features needed to run a worldclass omnichannel contact center
Competitively Priced
5 consecutive years in Gartner's MQ for CCaaS with highest customer recommendation rating at 92%
Unified with our Cisco UCaaS or can be deployed with an existing PBX or stand-alone CCaaS
Fully integrated with Microsoft Teams
Work, Hire & Manage Anywhere
Flexible pricing structure
99.999% Reliability
Full Featured - Call Recording, IVR, Dialer, Queue Callback, Dashboard, Analytics, Workforce Optimization

Simplify and future-proof your technology footprint with Evolve IP






It's nearly impossible to stay on top of every change in technology. Partner with Evolve IP and gain the combined experience of hundreds of technologists, all acting as an extension of your IT team. Helping you do more with less.
Featured By



Certified By