In the wake of the pandemic, distributed work has become a viable, long-term strategy—sparking new ways of collaborating, innovating, and achieving business goals together. But reaching a place where work can easily happen anywhere is a journey, with many challenges and opportunities along the way. Let's explore what it looks like, and how to get there faster.
What does the work-from-anywhere world look like?

Location no longer drives business value
Many companies are adopting a hybrid approach that blends remote and on-site work in many variations.

People, not real estate, are what make companies great. Attracting and retaining good talent is a top priority.
The way people approach their work has permanently changed
The ability to work remotely has gone from a perk to a prerequisite.
Work-life balance is critical, and many people now expect their employers to support both their physical and mental health.
IT plays an increasingly critical role in business success
In addition to providing consistent access to apps and services, IT must also address security threats posed by employees working outside corporate networks.
As digital experiences drive the way work gets done, IT now helps to shape workplace culture in ways it never did before.


61%
of IT, HR, and business decision makers agree that their organization is experiencing the benefits of remote work and can't go back to how things were before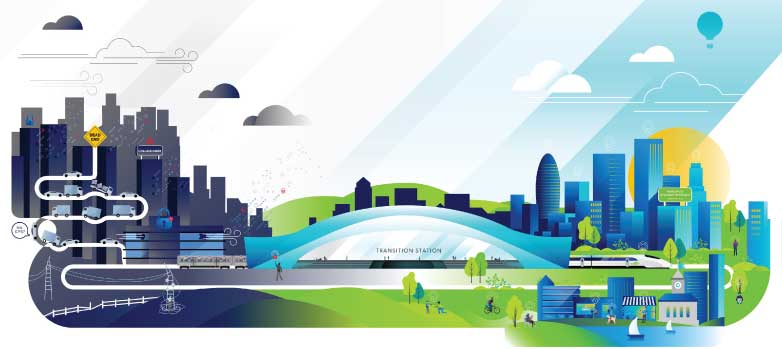 A boundary-driven work world had many limitations that hindered growth and scale. Today, it's possible for work to happen anywhere— and still be secure and immersive. VMware Anywhere Workspace solutions help make the transition a reality.
Navigating to a work-from-anywhere world can be challenging
As IT looks to take what it learned from the initial shift to remote work and build a foundation for the future, it faces a unique set of obstacles.


What causes tech leaders the most concern about the changing workplace?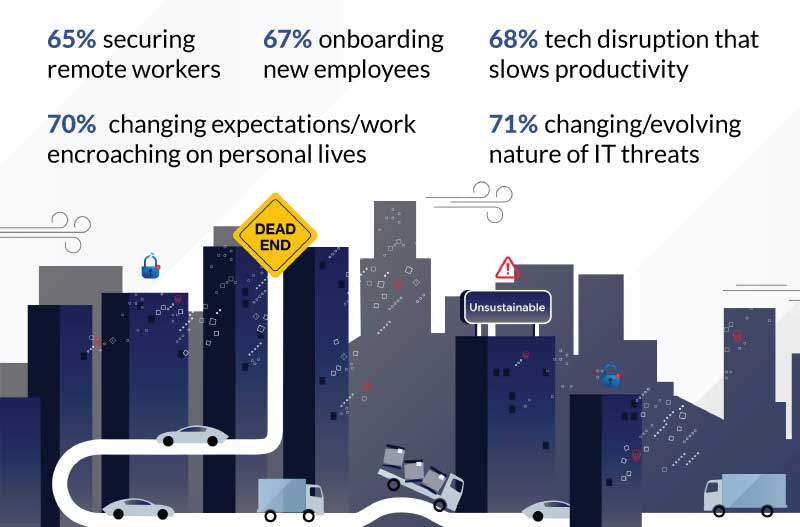 Security threats are escalating — fast
The corporate perimeter has dissolved, and cybercriminals are taking advantage of the growing attack surface that extends across apps, devices, and clouds.
Worsening cyberattacks, such as ransomware, have raised the alarm about the vulnerability of corporate data.


App and device sprawl creates visibility gaps and exposures
IT must balance the employee desire to use whatever apps and devices they want with the need to prevent data loss, avoid compliance violations, and contain security risks.
Striking this balance is complicated by the fact that many companies had to quickly expand BYOD programs in response to hardware shortages.
64%
of decision makers say technology security policies at their company hinder productivity more than they should
Employees have high expectations for technology experiences
Many employees want business apps and devices to work seamlessly. They want to be seen and heard in meetings and presentations—wherever they're located.
When evaluating where to work, prospective employees are paying close attention to technology policy, device choice, and more.


IT decisions can shape workplace culture
Frustrating onboarding experiences and inconsistent access to apps and platforms can cause remote workers to feel excluded or left behind.
When employees find it difficult to get IT support or file a help desk ticket, it can negatively impact how they view the company.
55%
of enterprises experienced an increase in break/fix issues related to end-user support since the start of the pandemic and as more firms open up to a BYOD strategy
The number of apps in use has skyrocketed
SaaS app usage is way up, and stakeholders are asking IT for more solutions, resulting in frequent app rollouts.
IT must ensure reliable, secure access to business-critical apps in order to keep work flowing smoothly and ensure that business goals stay on track.


IT silos and tool sprawl cause slowdowns
IT has long been siloed, with different teams using different tools, resulting in a patchwork of vendors and solutions that all operate separately.
This leads to disparate tools being used for similar tasks, causing inefficiencies and limiting agility.


IT silos and tool sprawl cause slowdowns
When the old ways of working became impossible almost overnight, it became easier to try new things, experiment with solutions to longstanding issues, and innovate in ways that might have seemed risky before. Unhindered by the inertia that often comes with "business as usual," disruption can lead to greater innovation across the business.


What positive benefits occurred in the shift from an HQ-centric mindset to a distributed workforce?
69%

say a majority of teams feels more empowered to speak their mind to leadership

71%

say time in meetings is more likely to be evenly shared between men and women

73%

say innovation is coming from more places in the organization since more employees began working remotely


What does the ideal work-from-anywhere world look like?
Security extends to the edge
Security extends to the edge
When security follows apps and devices everywhere, businesses will become far more flexible and capable of expanding and scaling.
A security infrastructure combined with a Zero Trust approach provides additional protection from emerging threats.


Workspaces support real employee needs
When digital experiences are just as good or better than location-based experiences, people can work from anywhere.

Having secure, reliable access to the apps and data they need for work allows people to stay productive and in the flow.




Employees feel empowered and confident
Technologies that deliver consistent, high-qualit

y experiences allow people to collaborate and participate more fully, wherever they are.

Self-service options make it easier for employees to resolve problems without opening support tickets.
25%
of enterprises purchased a point solution to fill gaps in their existing systems to support remote working
IT is more collaborative and business focused
A possibility-oriented mindset allows IT to embrace multi-cloud and cutting-edge solutions.

Reducing vendor and solution sprawl brings simplicity and clarity.

Automation frees up time for IT to take a more strategic leadership role in the business.


IT can meet future disruptions with greater ease
Distributed organizations can be more resilient in the face of future challenges, from weather events to global emergencies.

With better visibility into network health, app delivery, and endpoints, IT can anticipate issues and stay ahead of the curve.
33%
to
53%
The relationship between IT leadership and IT practitioners went from 33% positive pre-pandemic to 53% positive today.3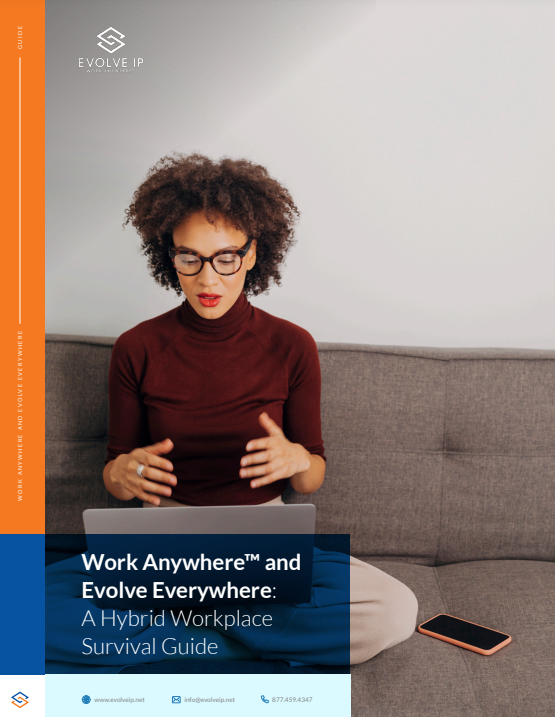 Evolving the Hybrid Work Environment
Evolve IP has been at the forefront of the hybrid work movement, partnering with the world's biggest tech companies to bring together their unified communications, collaboration, voice, virtual desktop, and contact center tools into a single, secure solution, fine-tuned for the hybrid workforce.
Check out our Hybrid Workplace Survival Guide to learn more about what we've learned over the years from helping our customers create a fluid business infrastructure that works anywhere and evolves everywhere.
Take the future in stride with Evolve IP's virtual desktop solutions, powered by VMware
Evolve IP partners with VMware to provide industry leading solutions that deliver broader and more effective security, reduce cost and overhead, and help you cultivate highly engaged employees.
With VMware, you get a single platform that includes key elements of Unified Endpoint Management, Desktop and App Virtualization, Secure Access Service Edge (SASE), and Endpoint Security technologies—all from one vendor.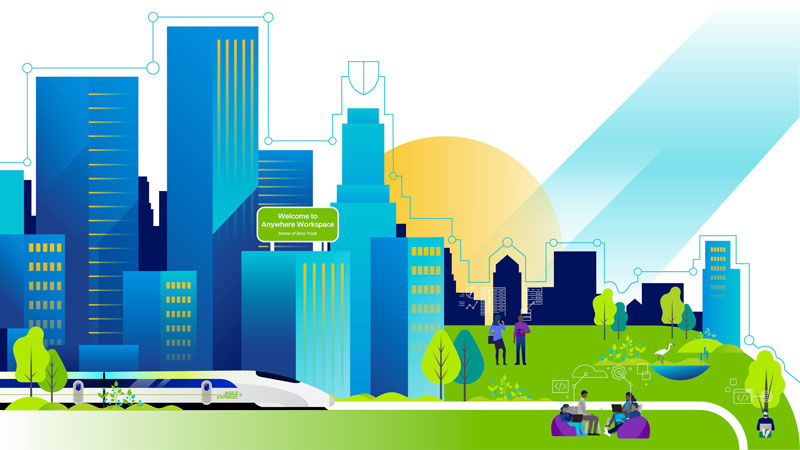 Put employees first with seamless, high-quality experiences
Make onboarding faster and easier for uncompromised performance and uptime.
Enable consistent experiences across all major mobile and desktop platforms, including Win10, macOS, ChromeOS, and Linux, on top of iOS and Android.
Deliver secure virtual desktops to users anywhere, on any device, including BYOD.


What do you want to accomplish?
Automate employee onboarding
Enable self-service and remote support
Support personal devices/BYOD initiatives
Ensure app performance for remote employees


Streamline IT workflows with intelligent automation
Manage for outcomes, not tasks, with an integrated, automated platform.
Create and deploy complex workflows with drag-and-drop flexibility and speed.
Provision and deploy endpoints faster and more securely with zero-touch IT.
Extend visibility and management to 100% of devices with cloud-native, off-domain policy management.


What do you want to accomplish?
Support multi-cloud
Manage SaaS app lifecycles
Enable special-purpose device management
Automate patch compliance and management
Modernize desktop management for Windows and Mac
Modernize mobile management for iOS and Android


Where do you go from here?
If your organization is like most, you've already started the journey to the work-from-anywhere world. As you seek to transition temporary solutions and strategies toward a longer-term vision, you'll need to enlist the help of others to reach your goals.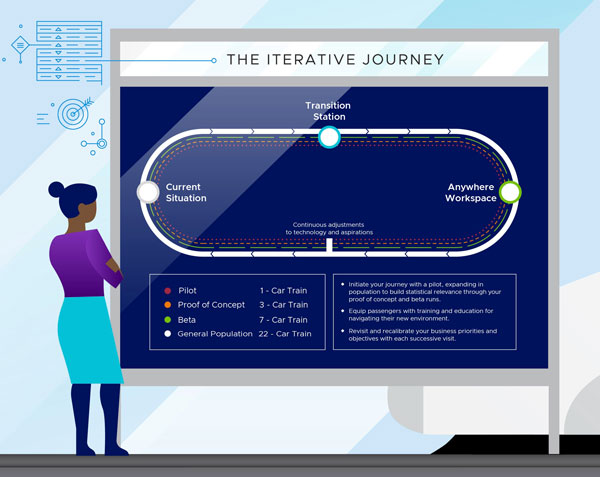 Here are a few tips to help you along the way:
Identify a leadership sponsor to own the project, which establishes accountability and drives momentum
Engage key stakeholders who have a vested interest in the outcomes, to build buy-in
Evaluate current state together and imagine the future. Consider the challenges, opportunities, and priorities you need to address in each of the following areas:

Work (including apps, devices, infrastructure, and policy)

People (from employee lifecycle to culture)

Risk (including BYOD, remote app access, SaaS app policies, Zero Trust)

Location (both distributed and on-premises)

Define your objectives and KPIs, then take an iterative approach, scaling as you go. You can define progress in increments; it's not an "end state"
Communicate early and often. Share the value and benefits of your initiatives, incorporate feedback, and focus on continuous improvement
Enjoy the Journey
Building the future doesn't happen overnight. With a thoughtful, phased approach, you can lay a foundation for supporting work wherever it happens. Evolve IP's virtual desktop solutions, powered by VMware, help you cultivate trust, engage employees, reduce silos, curtail disparate tools, and more. With an infrastructure and solutions that deliver security to the edge and allow for tremendous flexibility, you can meet whatever lies ahead with confidence.

Simplify and future-proof your technology footprint with Evolve IP






It's nearly impossible to stay on top of every change in technology. Partner with Evolve IP and gain the combined experience of hundreds of technologists, all acting as an extension of your IT team. Helping you do more with less.
Featured By



Certified By