"Fastest remote desktop I have ever used." – G2.com

Zero Trust User Experience
A secure DaaS approach that delivers the optimal end-user experience that every IT leader needs to improve productivity and business efficiency
What Does Zero Trust Mean?
"A network architecture or methodology that allows you to put yourself in a position where you have to verify the authenticity of everything that connects into your environment."
Compare Zero Trust to airport security. Once you go through the TSA checkpoint, you are considered a trusted traveler who can navigate the full terminal and doesn't need to go back and forth through the checkpoint.
Similarly, once an employee logs into their DaaS seat and goes through full authentication, they are trusted in the company's environment. This requires virtual desktop services to uphold certain security standards.
"For us, I think it's the ability to take all those different end vendors and guarantee security and totality across the platforms."
The battle between Security vs. User Experience
Security vs. User Experience
Two things are top of mind for every organization:
Organizations are spending heavily to "secure the edge", lock down, encrypt and strengthen the anti-virus / anti malware protection capabilities of their client devices, both internally and externally.
User experience is the first step towards providing a better customer experience. The easier it is for the call center agent to do their job, the happier the customers are that call into that call center, because the agents are more efficient and productive.
What's surprising is, security and user experience are often at odds with one another. IT leaders are forced to choose one over the other.
Increasing security posture with zero trust network architecture tends to diminish the user experience
Focusing on delivering the optimal user experience tends to result in a weakened state of security.
With DaaS, the choice is clear. There's no need to choose.
Here's how DaaS provides the ideal Zero Trust User Experience:
"Edge devices" are no longer a threat with DaaS: Organization data never leaves the data center and cannot be saved to the client devices. All work is done in a cloud-hosted desktop which is secured to the same standards as the rest of the organization's "core".
Access to company data remains "unaffected": If the device from which an end-user connects has been compromised using keystroke-logging or screen-capturing malware; organizations can use advanced capabilities (such as App Protection for Citrix and Sentry Bay's Armoured Client for VMware Horizon), to ensure that the integrity of the user's data entry and access to company data remains unaffected.
Provides a Zero Trust Network Architecture approach: DaaS coupled with multi-factor authentication (MFA) and/or Single Sign On (SSO) helps support the Zero trust model.
The Five Pillars of Zero Trust
In order to secure the trust of these pillars, an IT system should employ distinct security measures.
Two examples of features that are associated with DaaS and Zero Trust include multi-factor authentication (MFA) and single sign-on (SSO).
These are two forms of identity management features tied to Evolve IP's DaaS solution.
With DaaS you get the following benefits:
Remotely lock or wipe lost devices

Geofencing and location tracking

Enforce security protocols

Log and track corporate device inventory

App Whitelisting and Blacklisting
The future of IT Security and Hybrid Work
IT leaders no longer need to sacrifice security in the name of productivity or flexibility. See how Evolve IP can help you support your flexible workforce fast with secure, easy-to-manage cloud desktops and apps.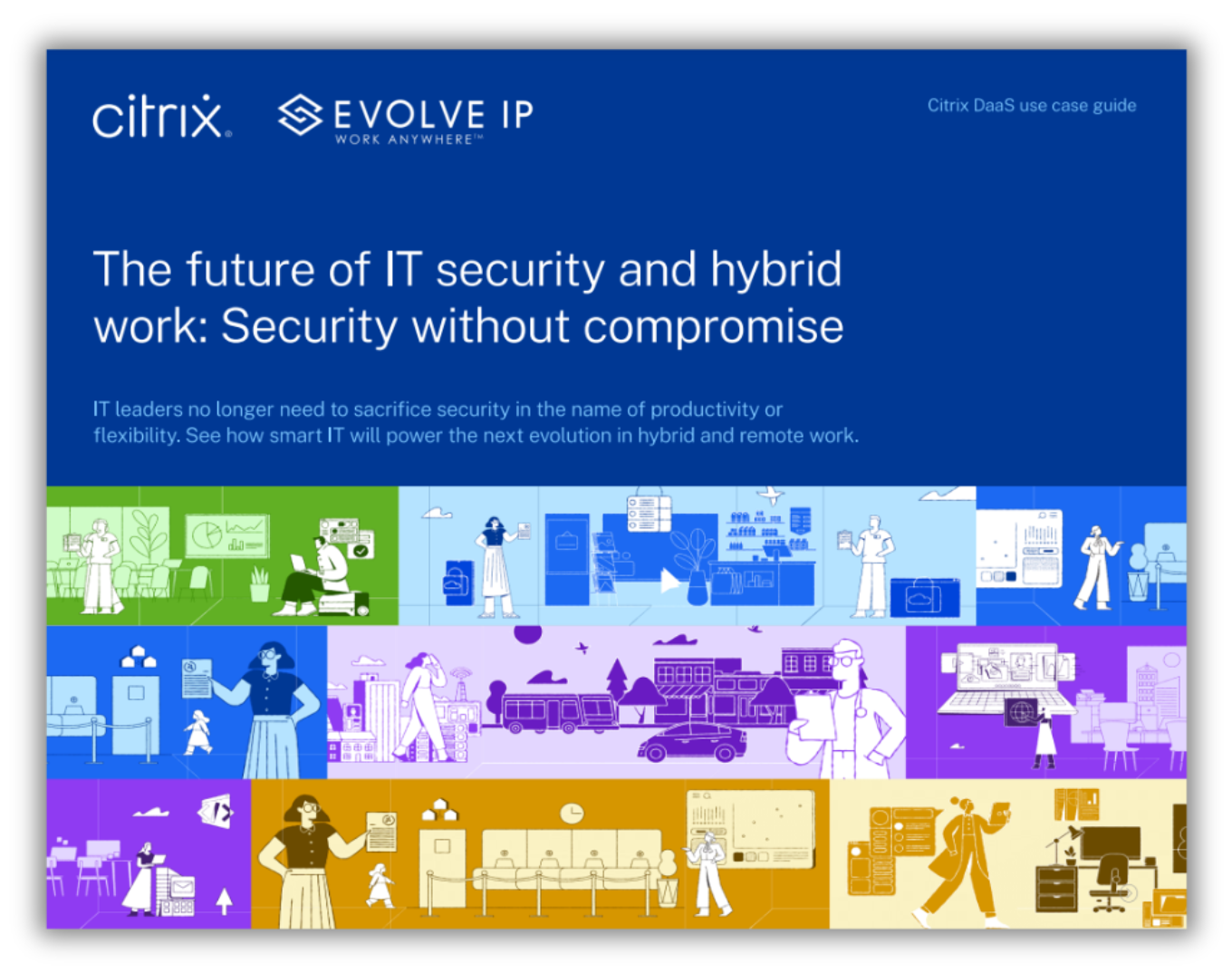 Zero Trust involves verifying the authenticity of everything that connects to a company's environment.
DaaS delivers the ideal Zero Trust User Experience (ZTUX); organizations don't need to choose between security and user experience.
Evolve IP has the ability to guarantee security across platforms, vendors, and networks.
Evolve IP Delivers Customizable Solutions
A key feature of the Zero Trust model that we focus on is the ability to customize solutions for different clients.
Find out how our managed DaaS solutions leverage Zero Trust network architecture:
"At the end of the day, we have 1000 snowflakes, thus we have to understand how to build layer upon layer with these different technologies."
Your essential IT ally for the enterprise hybrid workforce.





Simplify and future-proof your technology footprint with Evolve IP






It's nearly impossible to stay on top of every change in technology. Partner with Evolve IP and gain the combined experience of hundreds of technologists, all acting as an extension of your IT team. Helping you do more with less.
Featured By



Certified By