Many companies are beginning to implement Bring Your Own Device (BYOD) policies. The policies can be great: they cut costs and let employees work on familiar devices.

As easy as it would be to send out a mass email to all of your employees letting them know to bring their own devices the next day – it's not as simple as that. These policies can have their fair share of issues if not carefully planned for and monitored.

The experts at Evolve IP are here to provide you with a detailed guide on how to implement a secure BYOD policy.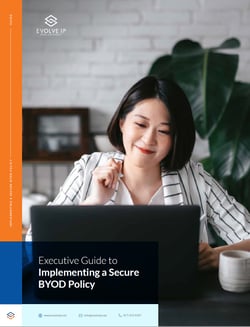 Simplify and future-proof your technology footprint with Evolve IP






It's nearly impossible to stay on top of every change in technology. Partner with Evolve IP and gain the combined experience of hundreds of technologists, all acting as an extension of your IT team. Helping you do more with less.
Featured By



Certified By